---

BC3
a System of compact analog Broadcast Consoles
for TV and Radio

---
BC3 is a versatile system of mixing consoles for small to medium sized radio stations, production facilities, edit rooms and TV stations as well. A BC3 broadcast console can be a small 8 in 2, rack-mounted version, a 64 in 16 or anything in between. All the modules include special broadcast functions like fader start, On-Air control, n-minus systems, Autodim and Autocut of the control room and studio speakers, several PFL modes, etc.. Mono, Stereo and TelCo input channels are available in several versions as well as different mono and stereo groups channels, program master units, control room and studio modules. All BC3 consoles use the best available components to assure very high reliability and long lifespan.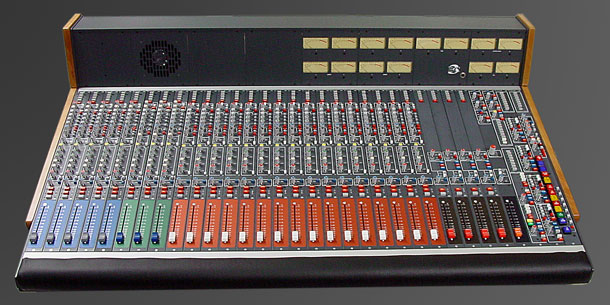 Modules

The module set of the BC3 broadcast console system consists of mono, stereo and telephone input channels, mono and stereo audio group channels, 2 versions of the program master module, a control room module, 3 versions of a studio playback unit and 3 versions of a talkback-, oscillator and status module. The modules of the particular range differ in the feature set. Apart from economy versions there are versions with attractive processing stages, fully parametric EQ's, dynamic sections and noise gates. See the module pages for details. In addition, all the modules can be supplied with standard 100 mm VCA faders or with 128 mm P&G VCA faders and a set of illuminated push buttons alternatively. For most of the modules transformer balanced versions are available.

With appropriate module choice the BC3 System can be produced in accordance to the German IRT rule book 3/5. A special set of stereo channels with AES/EBU digital stereo and telco inputs is also available on request (please ask).

Required Modules
One of the Program Master units, PM3 or PM4 and the control room module CTR3 are required for every version of the BC3 Broadcast Console. Everything else depends on customers requirements.

Custom Modules
Apart from the standard modules, custom build or modified versions of the standard units with special features can be produced. Special colors, other versions of the fader fascia and a lot more specials can be implemented - please ask.